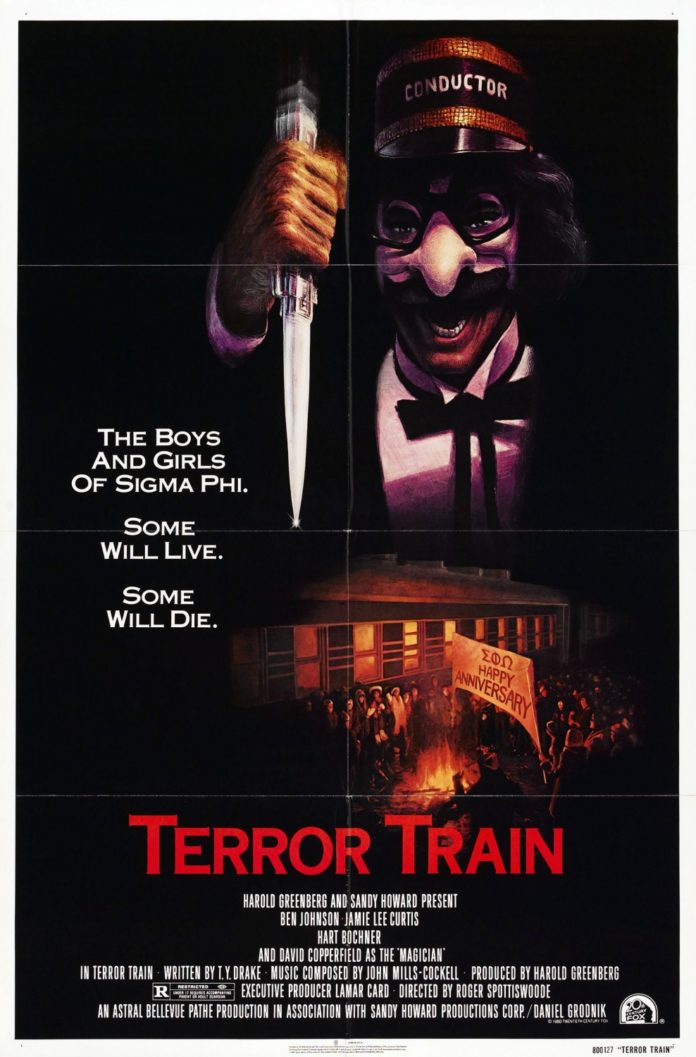 While Terror Train has a good reputation among horror fans, until the hectic climactic battle between "final girl" and killer, it's mostly run-of-the-mill slasher fare that distinguishes itself by A) having Jamie Lee Curtis as the final girl and B) being set on a train. But there's one other, less discussed aspect that sets Terror Train apart from the early '80s slasher pack: black people! That's right, plural! Three of 'em, in fact (not counting a couple of backgrounders). They aren't the story's central figures, of course—this isn't an episode of Soul Train, after all—but they do have relatively prominent roles. They even have names, like real human beings!
Jackson (Anthony Sherwood) and Merry (Vanity, The Artist Then Known as D.D. Winters) are part of a group of college seniors on a New Year's Eve party train—which is apparently a thing…? I will never doubt The Gap Band again. They're a couple, although we barely see them together—a mistake that leads to Jackson's death early on (not the first to die, but the second), because SAFETY IN NUMBERS, PEOPLE.
After he's killed, the murderer dons his lizard costume and proceeds to kill a white woman, Mitchy (Sandee Currie), after she tries to seduce who she thinks is Jackson. Interestingly, had it actually been Jackson, this could've been a rare instance of an interracial sex scene in this era of horror—granted, his race would've been masked (literally) by the head-to-toe green reptile suit—but since it wasn't him, that point is moot, and we didn't have to deal with Republicans running '80s campaign ads about soft-on-crime Democrats releasing inner city lizard men into the suburbs to rape white women.
(Merry manages to survive the entire ordeal, incidentally, because she just doesn't do much, popping up here and there like a sexy cold sore before disappearing altogether.)
The other black character has a smaller role as the head porter (Charles Biddle Sr.), referred to only as "Chief Porter" in the credits, although he's briefly called by name in the film: Donnelly. Working in a traditionally black-coded job, Donnelly is perhaps the most egregious "I'm just here to die" character in Terror Train. In the opening 10 minutes, he barely shows up long enough to establish himself as a potential target, uttering one throwaway line. Then, nearly an hour later, he reappears when the murders are discovered and the train conductor, Carne (Ben Johnson), asks the porters to search the train for the perpetrator (as if he'll be wearing a hat that says "KILLER").
Then, when Donnelly is assigned to guard the compartment holding final girl Alana (Curtis), his fate is sealed. Sure enough, the next time we see him, he has a sword through his ribs. I don't know if I'd call it a heroic death, but at least he dies in the line of duty, even if it involves protecting a dumb lady who thinks that the party train's magician (David Copperfield) is the mentally unstable pledge she helped prank three years earlier—like he had some sort of Face/Off facial transplant.