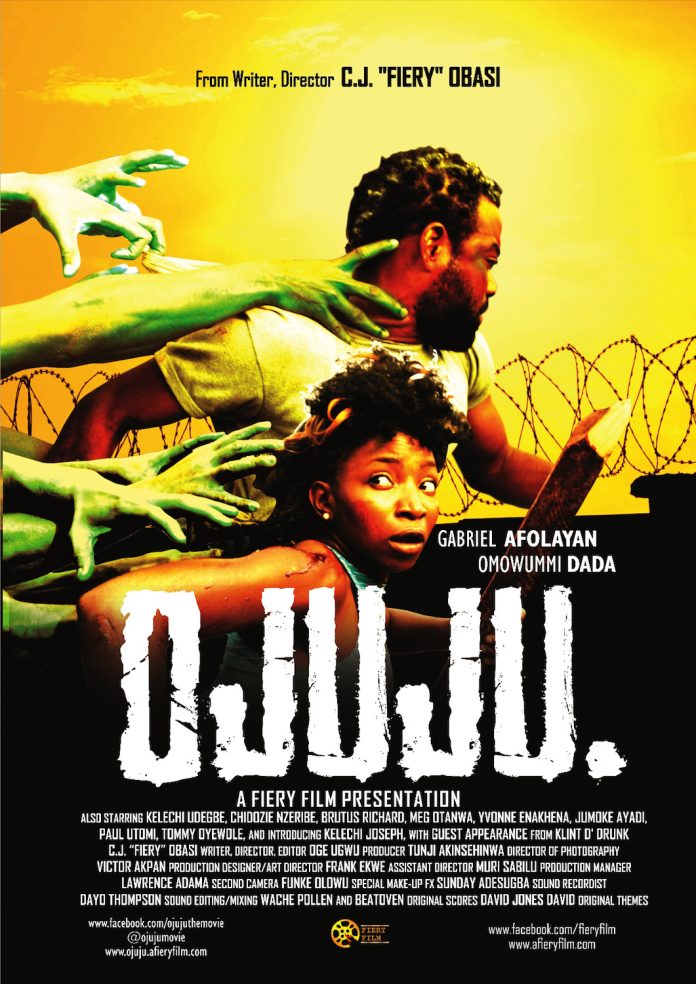 There's something universal about the nightmarish thrill of watching someone being eaten alive by reanimated corpses that has led to the propagation of zombie movies around the world. I've seen living dead films from six of the seven continents, and frankly, I can't say with 100% certainty there isn't a ragtag group of penguins in Antarctica shooting a knockoff of Dead Snow guerilla-style as I speak. Ojuju comes from the prolific Nollywood film industry, and while it falls on the low end of Nigerian cinema's budgetary spectrum, it manages to tap into the visceral appeal of zombie films, colored by a steady dose of charismatic local charm.
The story is basic, perhaps to a fault. It revolves around a group of residents of a poor Lagos neighborhood — Romero (Gabriel Afolayan), his friend Emeka (Kelechi Udegbe), Romero's pregnant girlfriend Alero (Meg Otanwa) and her friend Peju (Omowunmi Dada) — who try to survive a zombie — er, ojuju — outbreak due to a contaminated local water supply. That's pretty much it, story-wise. There's little in the way of twists or plot developments; just a series of scenes of the protagonists encountering zombies and either fighting or running, plus a few other characters — Romero's ex, a drug dealer and his friend and girlfriend — who turn. In a sense, it's nice that the film lets the zombie scenes carry the weight, but a more complex script could've added additional narrative depth and emotional impact.
Despite the threadbare plot, Ojuju manages to remain engaging thanks to animated performances, kinetic direction that makes use of the city's narrow alleyways and an old-school Romero-esque zombie aesthetic: slow, shambling undead and gruesome, practical effects that are surprisingly effective given the budgetary constraints. It also has a good sense of humor, although it occasionally undercuts the horror because the cast's comedic chops make it hard to know when to take them seriously.
Unlike The Dead, which was a British zombie movie shot in Africa, Ojuju is a homegrown product. Its humor lends a nice local flavor, and it's fascinating to hear the blended-language dialogue, a mix of Igbo, Yoruba and an English patois. Perhaps most admirable of its native inclinations, however, is its focus on the living conditions of the poor — in particular, the fact that 70 million Nigerians don't have access to safe drinking water. It reminds me a bit of similarly low-budget, urban-set, working-class, lighthearted foreign zombie movies like Argentina's Plaga Zombie and Cuba's Juan of the Dead, and while not as good as either of those, Ojuju is a promising debut for writer-director C.J. "Fiery" Obasi.