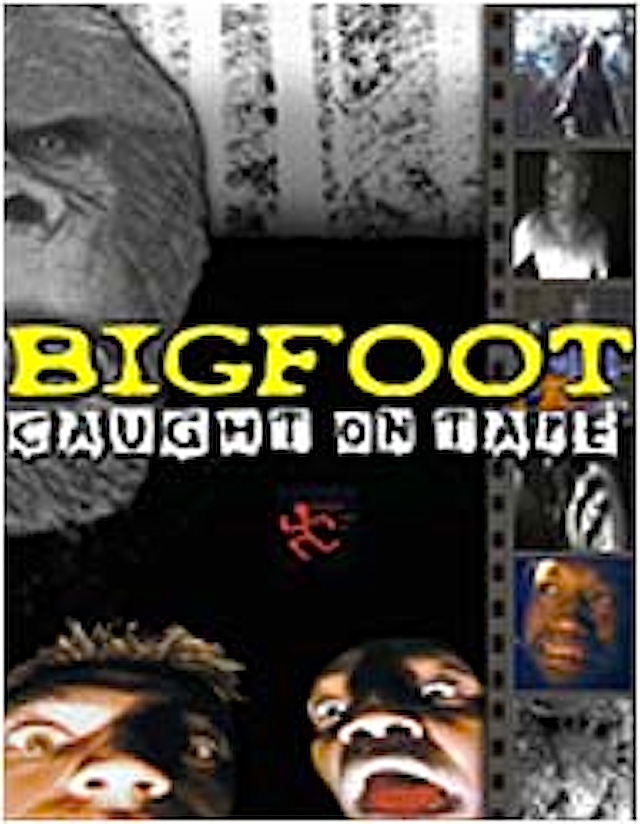 A Blair Witch Project spoof in the year 2006? Congratulations, you're seven years out of touch! The whole black and/or hip-hop angle was done years ago in The Black Witch Project and Da Hip-Hop Witch (although sadly, Bigfoot might be the best of the bunch) , so what's supposed to make this film so special? A Sasquatch, that's what!
Well, it certainly isn't the script, since there is none to speak of. I get that the dialogue in Blair Witch was largely ad-libbed, but those people had a distinct advantage on their side: discernible talent. Bigfoot Caught on Tape has nothing but time and tape. And they use all of it with excruciatingly little action, scares or humor.
The movie is framed by a fake investigative news show, The Mark Sparks Show (Sparks being the writer-producer-director-criminal against humanity), which plays "found footage" of two gangsta rappers, Gummii Bear (credited as Gummii Bear, which I pray for his sake is not his real stage name) and L.A. Lincoln (Sparks again) who disappeared while camping with Gummii Bear's brother, Larry (Everette Elliston). Why are gangsta rappers going camping? Because it's funny! No wait, it's not.
The only marginally humorous character is the incompetent tour guide (Kosmas Kirou), but even he's a one-trick pony, as we're tortured by scene after scene of the rappers complaining about his wacky un-preparedness, screaming about being lost, threatening to beat his ass, and other such witty repartee. The actors themselves aren't bad for this type of low-budget affair, but the material is so limited and the characters so thinly drawn that it would take the hand of God to make this entertaining.
Sparks has to be the main culprit, not only because he wrote the darn thing, but because he plays two ridiculous caricatures in Lincoln, an over-the-top stereotype of a gangsta rapper with a gold tooth lisp and Southern drawl, and Sasquatch expert Dr. Jane Goodall (really), who's a cutting-edge old man character that makes Tyler Perry look subtle. You better believe he's crotchety!
Oh, and if you're hoping to actually see Bigfoot "caught on tape," you'll need to use your pause button, because it's on screen for only a few seconds. To add insult to near-death, there's a big-ass "Bigfoot Caught on Tape" logo posted over a corner of the screen for extended periods of time, obscuring nearly a quarter of the shot, but since nothing's going on anyway, I can't say I really missed anything.