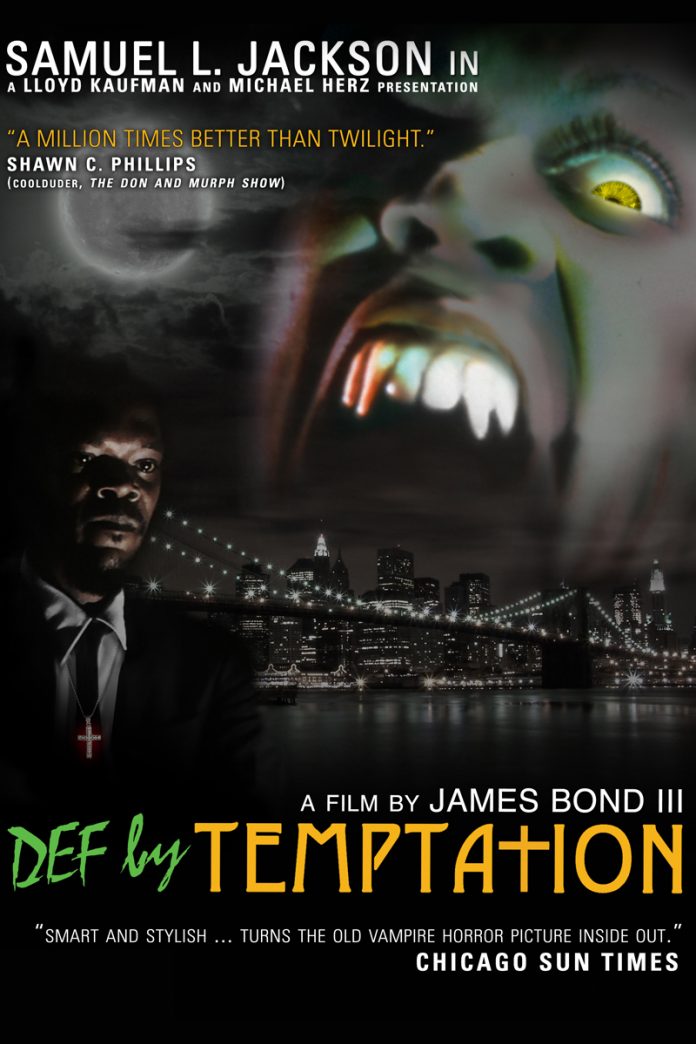 That Def By Temptation may be the best film in the Troma oeuvre (which studio president Lloyd Kaufman claims in the DVD intro) is perhaps a dubious distinction, but hey, everyone's got a cross to bear. Unlike most Troma works — including one of the scant all-black selections from the company, Bugged — it isn't an over-the-top gore or camp comedy-fest, but rather a relatively straight-laced tale of sex and vampirism.
This staid approach is due to the fact that Troma provided only funding on the project with little or no creative input (aside from changing the title from Temptation to the nonsensical yet jiggy Def By Temptation). They came aboard only after writer/director/producer/former The Fish That Saved Pittsburgh child star James Bond III had run over his budget. Of course, the budget here is still pretty low — at times it feels like a Rockwell video — but it's nonetheless enjoyably low-rent and atmospheric, like a mix between Ganja and Hess and Spike Lee's She's Gotta Have It.
Speaking of Lee, black cultural critic (and executive producer) Nelson George has blamed Bond's desire to become the next Spike Lee for his decision to star in Temptation, and he blamed his decision to star in Temptation for the film's failure — at least, artistically. That's a bit too harsh, though; sure, Bond is nobody's actor, but he's no worse than Lee, whose stiff presence didn't really hurt his early films. And looking back at it today, the film is still entertaining as is, buoyed by lively performances from Kadeem Hardison and Bill Nunn as inept vampire slayers out to get the succubus Temptation (Cynthia Bond; no relation to director — she's actually a cousin of Civil Rights Movement leader Julian Bond) before she seduces disillusioned minister Joel (Bond). Samuel L. Jackson lovers may want to overlook the deceptive DVD cover, however, since he's in the film for about as long as Rockwell was in the Top 10.