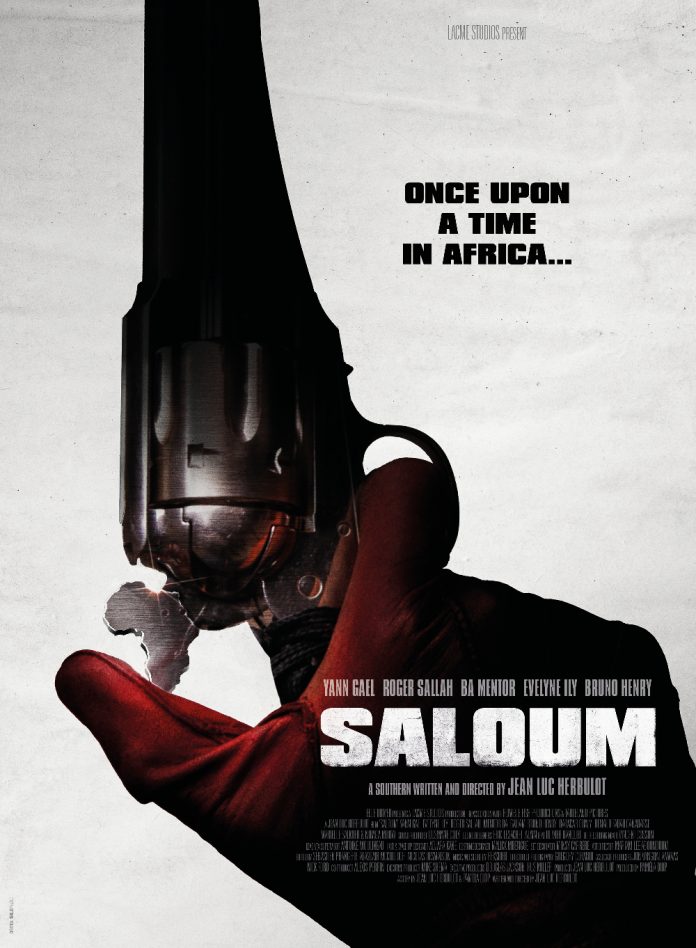 While American horror movies from Black creatives have gained a reputation in recent years (thanks in no small part to Jordan Peele) for incorporating racial and social commentary, the same can be said for black horror from around the globe. After all, black folks the world over have plenty of shit to get off their chests. With their history of European exploitation, colonization and destabilization, the nations of Africa have as much "raw material," so to speak, from which to draw inspiration for commentary as anywhere. Although the continent doesn't have as long and storied a track record in horror as North America, Europe or Asia, recent films like Good Madam, The Soul Collector and The Tokoloshe have emerged with the sort of high-level content and striking point of view that has earned international acclaim.
Now, we can add to that list Saloum, perhaps the most dazzling of the bunch and one that doesn't come from the expected cinematic hot spots of South Africa or Nigeria. Rather, it comes from Senegal, a country whose ample stretches of untamed wilderness and dusty, Sahara-adjacent landscape play into its neo-Western (or "Southern," as the movie calls itself) vibe. The story takes place largely in the Sine-Saloum, a delta region where a trio of mercenaries — brains Chaka (Yann Gael), braun Rafa (Roger Sallah) and mystic Minuit (Mentor Ba) — is forced to land their small plane due to damage sustained while fleeing Guinea-Bissau with their cargo: a wanted Mexican drug trafficker they've been paid to escort to the city of Dakar.
Under the guise of researchers for a gold company, they take refuge in a remote sanctuary where they hope to obtain fuel and a means to fix their plane, but as the days pass, secrets from their past threaten to expose their true identities to the others at the sanctuary — including a suspicious police captain. Even worse, they stumble across a supernatural curse that threatens to kill them all, causing them to abandon Plan A and Plan B in favor of Plan C You Later and Plan Deez Nuts.
Saloum is a triumph of stylish action and attitude, with a slick look (including simple but well constructed CGI) that overcomes its budgetary constraints. Writer-director Jean Luc Herbulot has a swaggy flair that lends the film a kinetic, early Guy Ritchie caper appeal and makes you wonder what he could do with a bigger production. Herbulot and cinematographer Gregory Corandi make wonderful use of the area's natural beauty and vast openness, the latter of which solidifies the sense of isolation and the awareness that no one is coming to save the day.
Despite a fast pace, propulsive soundtrack and wry sense of humor, there is an underlying sense of doom in Saloum, one that warns early on, via voiceover, about the futility of vengeance, which is "like a river whose bottom is reached only when we drown." On top of that message of personal insight are ones that carry the weight of Senegal's history and the legacy of colonization. Herbulot goes out of his way to show scenes of white poachers looking to blow up fish with explosives, destroying the ecosystem and threatening local fishermen. There are dinner discussions about the neocolonialist exploitation of natural resources. "Senegal needs partners," says sanctuary head Omar (Bruno Henry), "not operators."
Meanwhile, the antiheroic mercenaries — dubbed "the Bangui Hyenas" — are portrayed as liberators who have become local legends for defeating military coups and genocidal militias in several countries. The use of child soldiers in particular is a recurring theme throughout the movie, an indictment of the post-colonial chaos that remains across the continent during the ongoing process of neocolonialism.
As with so much black horror, the horrors of real life bleed onto the screen in Saloum. The real-life horrors, in fact, are more striking (and more heartbreaking) than the supernatural horrors portrayed in the film. The cinematic horror elements are light and reserved for the second half of the brief, 84-minute running time. From a genre aspect, the thrills aren't exceptional; the siege scenario set up by a magnificent mid-movie showdown promises more spectacular action than is delivered, making you wonder if it would've been better served to remain a straightforward Western/Southern than a horror-action hybrid.
That said, even if the anticipation of the second half isn't quite as enthralling as it could be, by that time, you've fallen in love with these quirky characters and are invested in their fates. As much as the scenery, the direction and cinematography, the beauty of Saloum is in the characters. Too often, America's exposure to Africans on screen amounts to flat, cliched archetypes, like spear-toting tribesmen or gun-toting warlords. We rarely see them as the fully-fledged humans portrayed in Saloum. They're complex, troubled, charming, funny, tragic, loving, heroic, misguided — all the colors of the spectrum of humanity. And it's a beautiful thing.