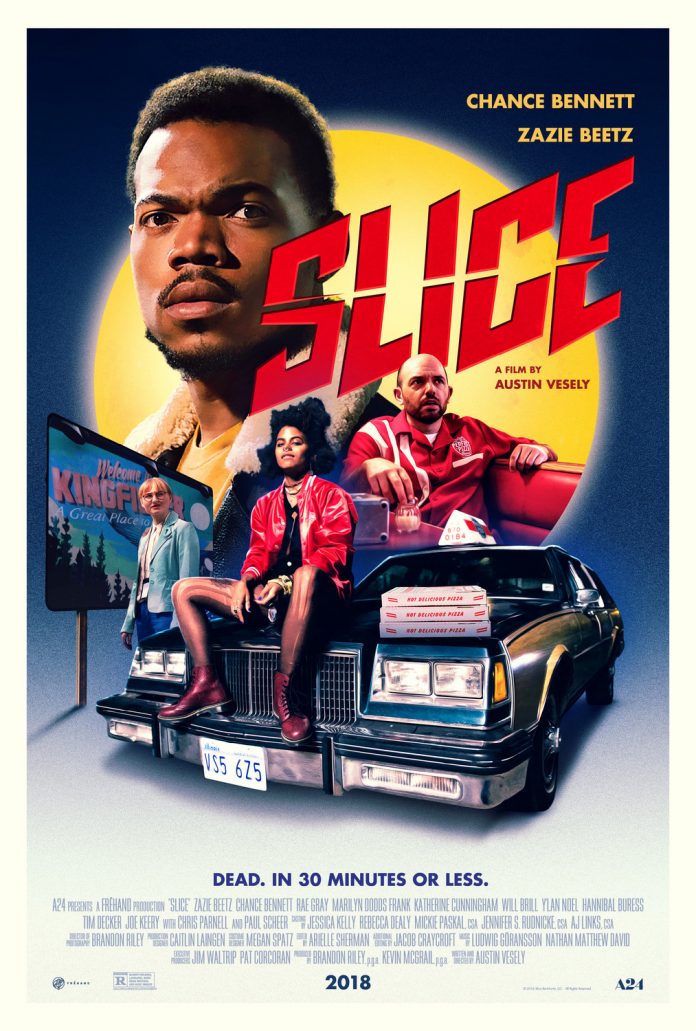 When red-hot indie studio A24 — home to award winners like Moonlight, Room and Lady Bird and acclaimed genre fare like Hereditary, The Witch and It Comes at Night — revealed that it was releasing a horror-comedy starring Chance "the Rapper" Bennett and Zazie Beetz, I was understandably pumped. After all, the A24 name has become a reliable stamp of quality over the past few years, like the Good Housekeeping seal or Wesley Snipes before Blade: Trinity. But my anticipation dimmed when A24 decided to forego its normal multi-week, multi-city release strategy and dumped Slice at the last minute into a handful of theaters on a "one-night-only" basis — and a Monday at that — before making it available on demand the following day. Not exactly a vote of confidence.
However, sometimes the best way to go into a movie is with lowered expectations, because the odds of being disappointed are likewise lowered. This is probably the approach to take with Slice, a bright, breezy, amiable tale that neither rises to its potential nor wallows in its deficiencies. It's comparable in quality and tone to recent, somewhat forgettable indie horror-comedies like Hell Baby, Bad Milo, Life After Beth (also from A24) and The Cleanse. Like those films, it boasts a strong cast full of familiar, likable faces — including Hannibal Buress, Paul Scheer, Chris Parnell, Joe Keery and Y'lan Noel — and solid production value, but ultimately, the plot feels half-baked and the humor is safe and predictable.
It's a shame the story ends up so mediocre because its allegory of race relations has such promise. Like the similarly underwhelming horror-comedy Freaks of Nature, the film takes place in a small town — Kingfisher — in which supernatural beings co-exist with humans. In the case of Slice, it's mostly ghosts — 40,000 of them, to be exact — who were buried in a mass grave, victims of illegal experiments within the walls of the now-defunct Halcyon Days Sanatorium. Ghosts are basically second-class citizens whom the mayor redlined into an abandoned area just outside the city limits, dubbed Ghost Town. The upside: they get to hear "My Boo" on a loop 24 hours a day. (Not really, but that would've been fun.)
When someone begins killing pizza delivery drivers, the mayor insinuates ghosts are to blame, stirring up anti-ghost sentiment that's only exacerbated by his Trumpian re-election slogan, "Keep Kingfisher Alive!" A waitress (Beetz), a reporter (Rae Gray) and a reclusive werewolf (Bennett) trying to clear his name lead the effort to unmask the culprit. Although two of the main protagonists are black, Slice addresses race only in a metaphorical context, with creatures like ghosts and werewolves enduring prejudice and discrimination, but at some point, the racial aspect peters out, as if writer-director Austin Vesely either didn't know what to do with it or was afraid of getting too serious.
Interesting plot points that could've deepened the racial conceit — like the fact that all living people eventually become ghosts and a briefly mentioned plot to enslave ghosts — are never developed, heightening the sense that the script could've used some doctoring. If nothing else, the droll jokes could've been punched up, as could the horror elements, which range from tame to remedial (WORST. WEREWOLF. EVER.).
Still, it's always great to see black folks headlining a "mainstream" (that is, non-all-black) movie, especially in quirky roles like these that don't fall into any particular racial stereotypes. Beetz and Bennett are a charismatic duo, even if the latter hasn't fully honed his acting chops — as is expected from a musician making his film debut. They pretty much embody the film, which generates goodwill from an overall likability factor. The strong supporting comedic cast, cartoon color palate and goofily fantastic premise make for a generally pleasant viewing experience; unfortunately, that falls short of the cult classic it could've been.