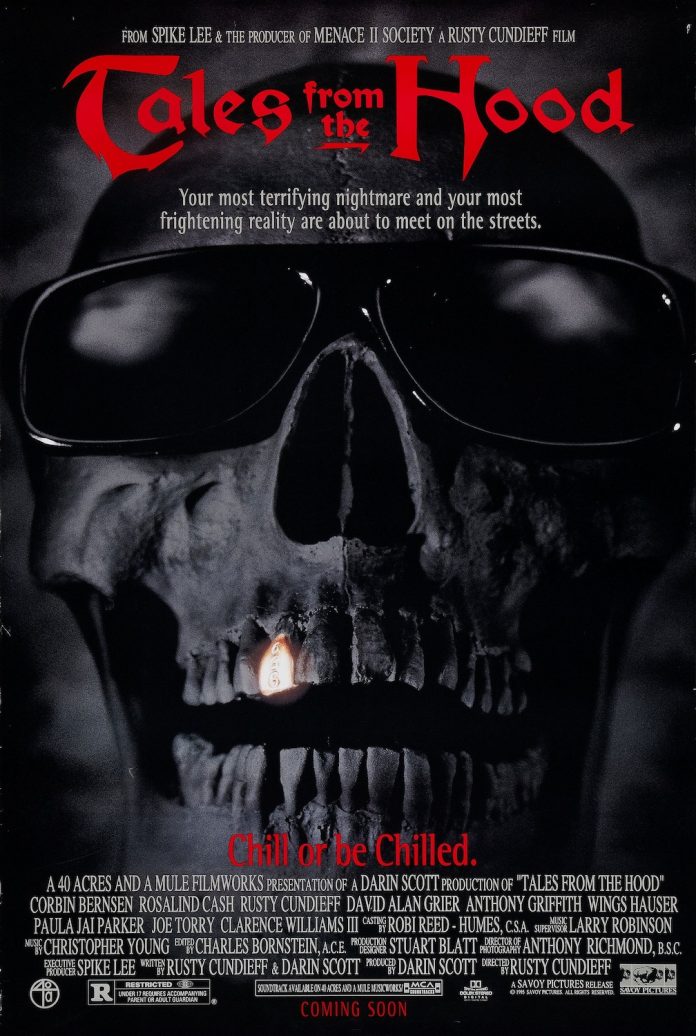 Of all the all-black horror movies to receive a theatrical release since the Blaxploitation era (let's say, four), Tales from the Hood is probably the best. Smarter than Bones, with a grander scale than Def by Temptation, and well, it's not Vampire in Brooklyn, TFTH follows the standard Tales from the Crypt anthology format, but each story addresses a pressing "urban" issue of the day — parallel parking, for instance. The tales are as follows:
"Rogue Cop Revelation"
Issue: police brutality
Solution: police brutality
Black rookie cop Clarence (Anthony Griffith) witnesses his corrupt white colleagues kill a rabble-rousing black activist (Tom Wright) but doesn't cross the thin blue line to report them. On the one-year anniversary of his death, Wright, who played the memorable zombie hitchhiker in Creepshow 2, rises from the grave to deliver a little reverse Rodney King action.
"Boys Do Get Bruised"
Issue: child abuse.
Solution: parental abuse.
Worried that his student (Brandon Hammond) is being abused, an elementary schoolteacher (director Rusty Cundieff) visits the boy's home, only to discover that the abuser is a monster. And they have no cable. Shudder.
"KKK Comeupance"
Issue: racism
Solution: Anfernee Hardaway
Ex-KKK member and current gubernatorial candidate Duke Metger (Corbin Bernsen) moves into an old plantation that was the site of a slave massacre back in the day. Rumor has it that the souls of the slaves were placed into dolls, and one night he discovers that the legend is in fact true. The dolls, whom Duke refers to as "niglets," stage an uprising, led by one that bears a striking resemblance to Lil' Penny. Now, if we could only find work for Willie Tyler & Lester.
"Hard Core Convert"
Issue: gang violence
Solution: Speedos
Made at a time when "black-on-black crime" was a buzz-worthy catchphrase, this episode features Crazy K (Lamont Bentley), a convict who agrees to take part in an experimental rehabilitation program. The Clockwork Orange-ish deprogramming aims to show him the impact that his life of violence has had on the community, but the message is undermined by the fact that they strip him down to his bikini briefs to do so. T.M.I.
What steals the show, though, is Clarence Williams III's over-the-top performance in the wrap-around story, "Welcome to My Mortuary." As the wild-eyed and even wilder-haired undertaker Mr. Simms, his gleefully insane shtick enlivens an otherwise predictable tale. Just don't ask him for "the shit."