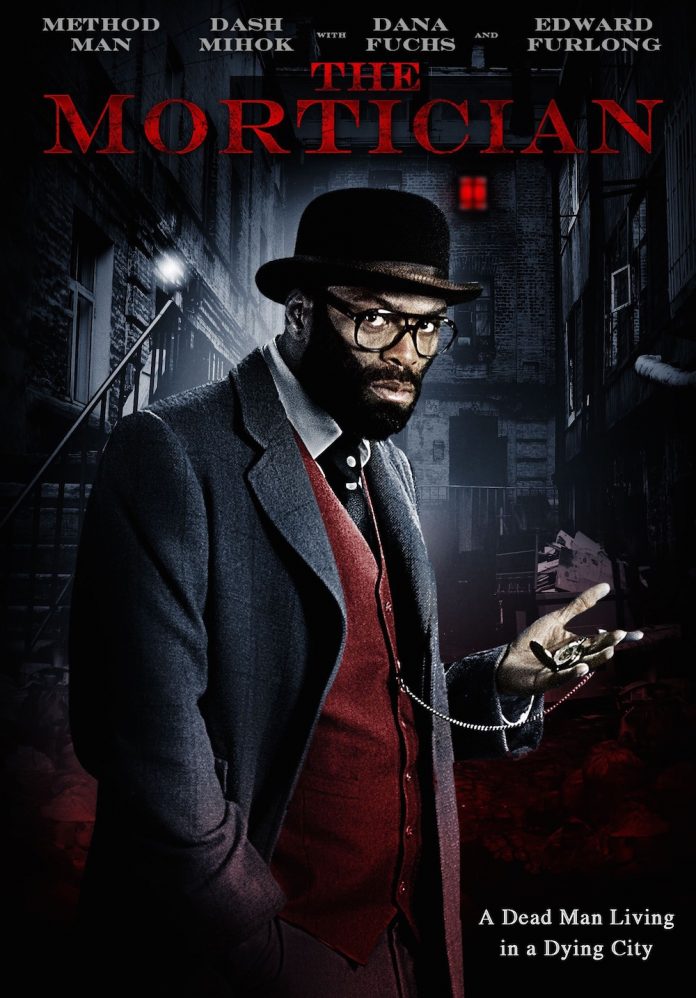 The Mortician is an odd duck that defies easy classification. Like Apartment 4E, its cover art seems to paint it as a conventional horror film or thriller, with the titular character looking like he could be a Jack the Ripper-era serial killer. But despite his three-piece suit, bowler hat and pocket watch, this isn't a period piece, and it's certainly not a horror movie.
The distributor's official description calls it an "urban thriller," but I don't think it has enough thrills to live up to that label. (And yes, it does take place in an urban setting, but I think we all know that's not what "urban" means in this context. Really, have you ever heard of something being called a "suburban thriller" or a "rural thriller"?). A more appropriate moniker that I've seen attached to it is "urban noir" — although you could also just call it a drama.
Rapper Method Man plays against type as the unnamed mortician, a socially awkward loner who works in a scuzzy city morgue in an even scuzzier part of town run by a multicultural gang headed by a redheaded thug named Carver (Dash Mihok). The mortician keeps to himself and barely interacts with anyone other than an escort he frequents. However, his isolationist philosophy is put to the test when a young boy shows up at the morgue seeking his help. It seems the kid is on the run from his dad — Carver — after witnessing him kill his mother. The boy's predicament reminds the mortician of his own tragic past, putting him in a moral dilemma that may force him to reconsider his outlook on life.
Method Man is one of the better rappers-turned-actors and one of the few who could pull off this role, even if he's a bit too familiar a personality to separate the actor from the role. He lays on the twitchy awkwardness a bit too heavy at times, but he's still effective in leading a film with a strong supporting cast that includes Mihok, Wendell Pierce and Edward Furlong.
It's rare to find a movie even remotely resembling a thriller that aims more for atmosphere than for thrills, but The Mortician is it. Despite a plot that has plenty of room for action or gore, it strives for neither — a sense of restraint that's commendable if not always entertaining. The story is thin and feels more suited for a short film than a feature, and despite being the headliner, the mortician character doesn't actually do much. His scant acts of heroism don't exactly involve him picking up a shotgun and channeling Charles Bronson from Death Wish or anything. I guess that makes for some refreshing realism, but it's also kind of dull.
Still, a timid, smart, reluctant hero like the mortician is a role we don't often see played by African Americans — especially in 3-D (The movie was apparently shot in 3-D, for some unknown reason.) — so it's a welcome addition to black genre films…whatever genre you want to label it.