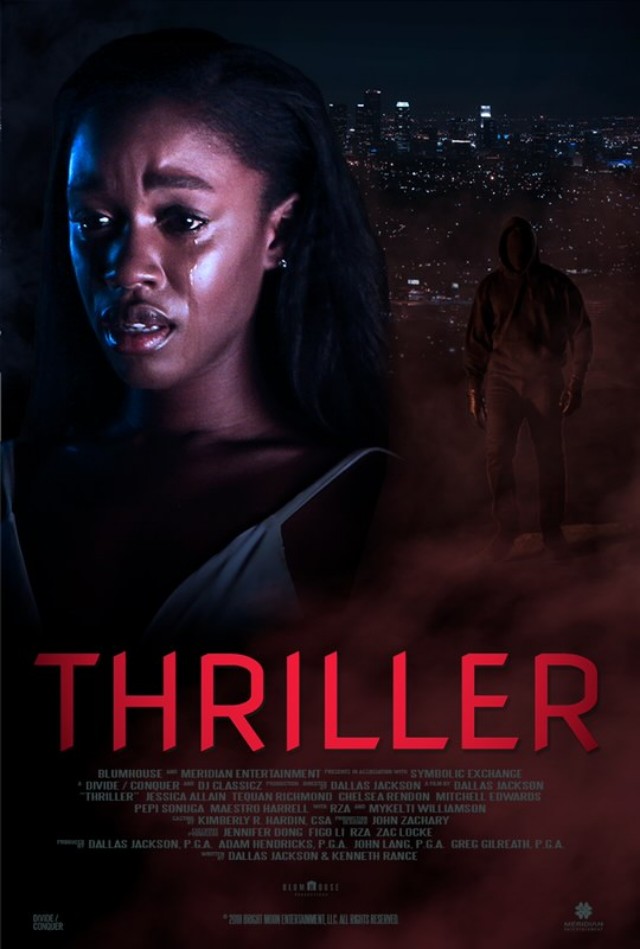 No, Thriller isn't a Michael Jackson-themed horror movie (that would be Leaving Neverland); rather, it's mega-producer Jason Blum's latest attempt to further the black horror cause. Unlike his hits Get Out, Us and the Purge films, however, Thriller headed straight to Netflix rather than playing in your local multiplex…and unfortunately, it's apparent why. Going directly to Netflix isn't necessarily an indictment of a movie's quality (see Bird Box and The Cloverfield Paradox), but with Thriller, that seems very much to be the case — with explains why Netflix chose to spring it on us as a "surprise" release (i.e., without bothering to spend any money on promotion). It's not horrible, but it feels like a relic — a more competent reincarnation of the cheesy DTV "urban horror" films (Vampz, Cryptz, Zombiez, Bloodz vs. Wolvezzzzzzzzzzzz…) that proliferated during the '90s and early 2000s.
Like those mostly forgettable efforts, Thriller takes a well-worn horror setup, moves it to an inner city setting (in this instance, Compton) and replaces all the white faces with black ones. It's basically a hip-hop retread of Prom Night (with touches of Scream and Carrie), with the perpetrators of a childhood prank that resulted in someone's death falling prey to a mysterious killer years later. There's an attempt to shoehorn some social commentary about the plight of young black males into the plot, but it comes off as awkward and out of place. I suppose the graceless nature of the writing should come as no surprise since writer-director Dallas Jackson's only previous feature film script was Uncle P (admittedly, pretty terrifying in its own right).
Like his writing, Jackson's direction is sterile, delivering tame, slasher-lite kills and matter-of-fact "thrills" with the aesthetic of an after-school special. What keeps Thriller afloat is the standout cast, featuring young talent you might recognize from shows like Everybody Hates Chris (Tequan Richmond, Paige Hurd) and The Wire (Maestro Harrell) and movies like Leprechaun Returns (Pepi Sonuga) alongside veteran actors like Mykelti Williamson, Vanessa Williams and Vanessa Bell Calloway (no to mention O.G. rappers RZA and Lady of Rage, who are about 25 years too late to add significant credibility to this film). At the very least, their presence helps simulate a level of quality the rest of the film can't deliver.
The young actors take on the standard teen slasher movie roles we've come to expect from mainstream horror movies with predominantly white casts: the good girl, the jock, the bad boy, the mean girl, even the token "racial minority" couple — in this case, a pair of Latinos to keep things diverse. Perhaps the most interesting casting note to me is that in an industry with a history of colorism, the two lead protagonists are darker skinned, while the two primary villains (other than the killer) are lighter in tone — a decision that might not have been conscious but is appreciated nonetheless.
In the end, Thriller isn't outright awful so much as bland, predictable and ho-hum — none of which you want in a horror movie. The biggest mystery is how Blumhouse was attached to such a perfunctory product. Was Blum actually involved in the production as it went along or did he just slap his name on it at the end? The latter would make more sense, although it still calls into question the producer's discerning eye. That's not to say that he doesn't have some stinkers on his resume, but even his misfires tend to have more ambition and imagination than this dim bulb.